COVID-19: What We Know So Far
As the world scrambles to contain the spread of the deadly corona virus, SARS-Cov-2, here are some of the updates for today;
Corona Virus Latest Statistics: Total Confirmed Cases 174,995,
Total Recovered 77,658,
Total Deaths 6,706.
Switzerland has declared a state of emergency in a bid to combat the coronavirus pandemic.
Major airlines including British Airways, Ryanair, easyJet and Virgin Atlantic announced a dramatic scaling back of their operations on Monday, with cuts of up to 80% of their services.
Mounting concerns over a possible global recession have sent financial markets around the world plunging, despite a coordinated effort by central banks to protect growth and jobs, amid the widespread disruption caused by the coronavirus pandemic.
As the number of cases of Covid-19 cases rose to 114 in India, the government ordered a shutdown across the capital Delhi from Tuesday. All gyms, spas and social, political, cultural and religious gatherings of more than 50 people will be suspended until at least 31 March. Weddings, however, are exempt.
France has warned of a "fast-deteriorating" situation and Spain has requisitioned its private healthcare sector as European governments imposed closures and lockdowns rarely seen outside wartime to curb the spread of the coronavirus outbreak.
The head of the World Health Organizaion, Dr Tedros Adhanom Ghebreyesus, has implored governments to test more suspected cases, warning that they cannot fight the pandemic blindfolded.
The Jack Ma Foundation: "Africa can be one step ahead of the coronavirus. To each of the 54 African countries, we will donate 20,000 test kits, 100,000 masks and 1,000 medical use protective suits and face shields.
The spokesman of the Government of Kenya, Cyrus Oguna reports that there are 3 other suspected cases with 14 people under quarantine; tests results expected soon.
Liberia, Somalia and Tanzania are the latest countries in

#

Africa

to confirm cases of

#

COVID19

. 28 countries in the continent have now confirmed cases of the disease, with the numbers surpassing 350.
The regional leader of Spain's Catalonia, Quim Torra, has tested positive for coronavirus. Torra said he began noticing symptoms on Sunday, soon after the region's deputy leader, Pere Aragonès, said he had tested positive.
The US Centers for Disease Control advised that events of 50 people or more be cancelled or postponed throughout the United States.
An NHS document leaked to the media suggested that the coronavirus emergency could last up to a year in the UK and put 8m people in hospital. This morning, Downing St said the 8m figure was a worst case scenario, rather than what the government expected.
The number of deaths in Spain has risen to 297, and there are 8,744 confirmed cases across the country, health authorities said on Monday. Just over 40% of those infected with the virus are currently hospitalised.
As per Kenya's President Uhuru Kenyatta's directive, telco Safaricom raises daily transaction limit from Ksh 70,000 to Ksh 150, 000. Further, users can now hold Ksh 300,000 in their MPESA wallets, up from Ksh 140,000. Also, all transactions below Ksh 1,000 will from tomorrow morning be free for 90 days.
www.guardian.com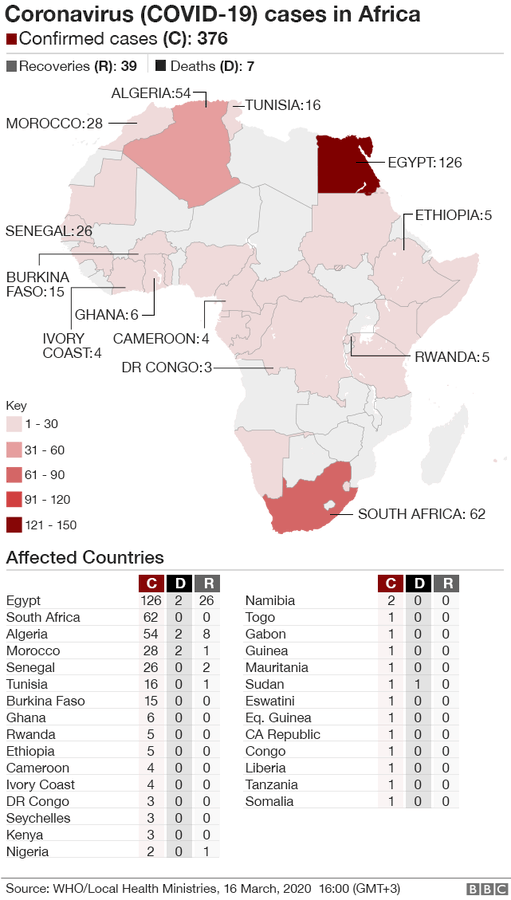 Send tips, business inquiries and all else to dailyupdateskenya[at]gmail.com