Why Sonko Might Be Nairobi's Best Governor Yet
Mike Sonko in his element
His life is that of controversy. Everywhere he has been, his charm has been his way out. In the midst of all the drama, he has always charmed the local man or woman- they could identify with him. He was one of them. Starting as a member of parliament of Makadara constituency in Nairobi then upwards to Senator of Nairobi County, the man now sits at the helm of the city.
We have instant riches story such as Githeriman, then we have Gideon Mbuvi Kioko a.k.a Mike Sonko. Born on February 27, 1975, Sonko came into the public scene due to the fleet of Eastlands matatus that he owned. The source of this wealth is questionable and nobody can really prove where it came from.
Either way, Nairobians were introduced to a man with money and money that he was willing to share.
His first stint came when he floored political bigwigs in the Makadara by-election. This was a dark horse that nobody knew about, yet he beat his opponents hands down.
The script repeated in 2013 when he clinched the Nairobi Senator seat. He was flamboyant, controversial but the electorate still loved him.
Why would a huge number of Nairobians vote for a man whose education record was dismal if not non-existent? Why would they select a man whose source of wealth was 'unknown'?
One reason that sticks out is his development record. Critics label his style retrogressive, for he dishes out money instead of looking for long-term options. This is not entirely true.
During his time as MP for Makadara, the man introduced several youth programs to help his constituents improve their livelihoods. He also later got involved in several social campaigns to help common
mwananchi
including the infamous Grogan land fiasco.
Besides his generosity, many know of his family of three daughters and they trust him despite his questionable record.
Earlier in the year, when he went against Peter Kenneth in the Jubilee primaries, he suffered numerous setbacks. Clearly, someone was not comfortable with his candidature. He beat the odds again to emerge the victor and went ahead to represent Uhuru Kenyatta's Jubilee Party.
From then, something interesting happened. The controversial Mike Sonko disappeared and there emerged a different man. Sonko now dressed in suits and during the gubernatorial debate, he was seen to present decorum that few had seen before.
Several suggested that the reality had sunk in. For him to win the hearts of the Nairobi electorate, he had to portray maturity. He had to show that he was ready to represent Nairobi as the important county and business hub it is in Africa.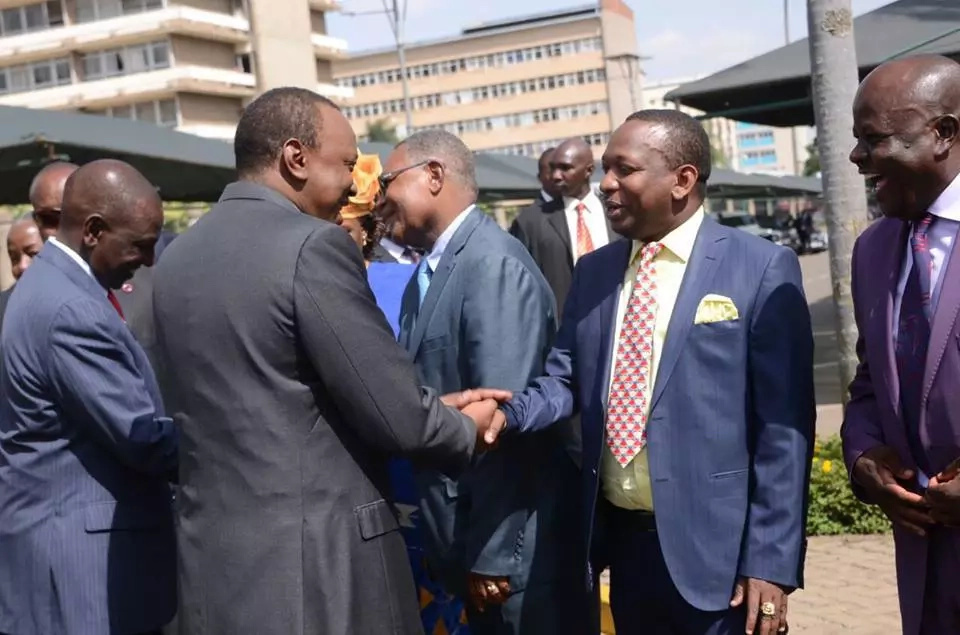 Sonko in his new mojo.
The strategy worked and he was declared the winner in the gubernatorial contest.
Here is a man who saw the need to transform to win the hearts of Nairobians. Once it was official, he unleashed the Sonko Rescue team to clean up Nairobi. In his manifesto, he promises to tackle two of the city's major issues-traffic jams and garbage. If and when he succeeds in these, he will definitely be on his way to a second term. Given his previous development records, bets can be set that he will play a hand in the transformation of Nairobi.
Below is a summary of what he intends to do in Nairobi in the first 100 days and his five-year term: