Claws Out. NEMA Begins To Enforce Plastic Ban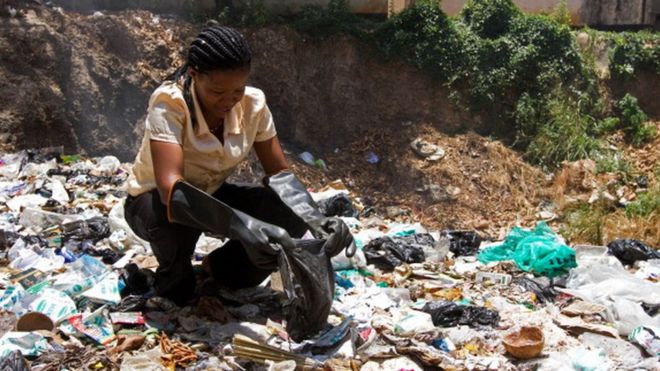 A woman checking plastic bags at a dump site.|GETTY IMAGES
After years of false starts, the ban on the use, manufacture, and sale of plastic bags comes to force in Kenya. After the announcement, Kenyans were shocked that after today, anyone found with the polythene bags could face heavy fines of up to Sh. 4 million or prison sentences of up to four years.
By yesterday, August 27, a spot check established that major supermarkets such as Tuskys, Naivas, Eastmatt, Best Lady shops and retail shops in Nairobi were still packaging shopping for their customers in plastic bags.
Citizens who were interviewed threw blame on the Kenyan government for failing to conduct civic education and failing to provide the alternative biodegradable bags soon after the ban was gazetted.
This is the third attempt in the past 10 years to ban plastic bags in Kenya.

Environment CS Judi Wakhungu through a February 27 Gazette notice banned the use, manufacture and importation of all plastic bags for commercial and household packaging.

Manufacturers were given six months to clear their stock.
Manufacturers of the bags said that this will be horrible for business and worse still, over 50,000 Kenyans would use their jobs.
Earlier today, workers at a plastic manufacturer in Nairobi woke up to a rude shock when they found a poster on the company's gate that turned away all laborers till further notice.
Read the notice below;
Here is another notice-
The National Environment Management Authority (NEMA) in a statement said that only manufacturers with clearance will be legally allowed to continue with their business. The National Environment Management Authority today flags off its inspectors and environment police to inspect whether manufacturers have complied with the plastic bag ban.