All You Need To Know About The Supreme Court Of Kenya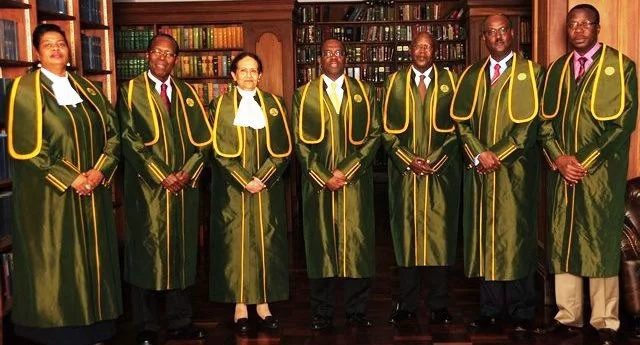 Judges of the Supreme Court of Kenya in 2013
The Supreme Court of Kenya is established under Article 163 of the Constitution as the final arbiter and interpreter of the Constitution.
The Court comprises of the Chief Justice, who is the President of the Court, the Deputy Chief Justice, who is the Vice-President of the Court and five other Judges.
The Court has the exclusive original jurisdiction to hear and determine disputes relating to the elections to the office of President arising under Article 140 of the Constitution.
(1) A person may file a petition in the Supreme Court to challenge the election of the President-elect within seven days after the date of the declaration of the results of the presidential election.
(2) Within fourteen days after the filing of a petition under clause (1), the Supreme Court shall hear and determine the petition and its decision shall be final.
(3) If the Supreme Court determines the election of the President- elect to be invalid, a fresh election shall be held within sixty days after the determination.
The Court also has appellate jurisdiction to hear and determine appeals from the Court of Appeal and any other court or tribunal as prescribed by national legislation.
However appeals can only be;
As a matter of right where the case involves interpretation or application of the Constitution or a matter certified by the Supreme Court or the Court of
Appeal as one that involves a matter of general public importance. The Supreme Court may review a certification by the Court of Appeal and either affirm, vary or overturn it.
The Court can also render an advisory opinion at the request of the National Government, any State organ, or any County Gove
rnment with respect to any matter concerning County Government. It can also determine the validity of a declaration of a state of emergency; an extension of such a declaration or any legislation enacted or action taken in consequence of a declaration of a state of emergency.
In 2013, the Supreme Court of Kenya arbitrated over its first ever Presidential petition where several parties challenged the election of President Uhuru Kenyatta and his deputy, William Ruto.
The case was decided unanimously by the six sitting judges that:
The elections were indeed conducted in compliance with the Constitution and the law.
That Uhuru Kenyatta and William Ruto were validly elected
That rejected votes ought not to have been included in calculating the final tallies in favor

of each presidential candidate

.
The final judgment was issued on 16 April 2013.
The court ruled that all members were to pay for their own costs.
After their announcement that they will present their case to the Supreme Court, this year's presidential petition will be determined by the following bench of judges;
Hon.

David Maraga

- Chief Justice & President of the Court
Hon. Lady Justice Philomena Mbete Mwilu - Deputy Chief Justice & Vice President of the Court
Hon. Mr. Justice

Mohamed

Khadhar

Ibrahim
Hon. Justice (Prof.)

Jackton Boma Ojwang
Hon. Justice (Dr.)

Smokin Wanjala
Hon. Lady Justice

Njoki Susanna Ndung'u
Hon. Justice Isaac Lenaola