It Was Never About Me. I Will Never Run For President Again, Says Raila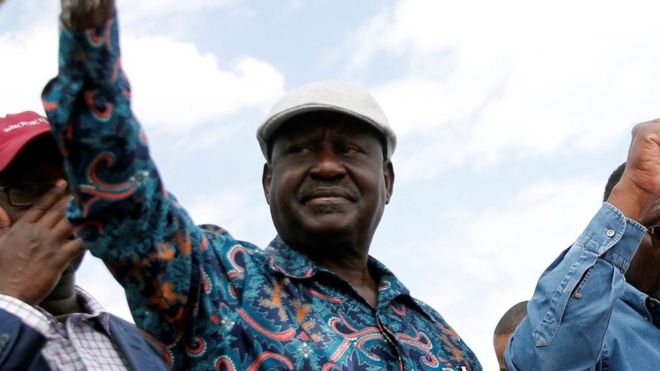 Raila Odinga waves to supporters in Mathare slums, Nairobi /REUTERS
In an interview with the Financial Times at his home in Nairobi, NASA Chief, Raila Odinga said that he will never run for president again. After a bitterly contested election, this statement leaves people guessing on what his next move will be.
During the interview, Odinga said that he was not trying to get power through any means that is not enshrined in the Constitution. He reiterated that this was not for him but to help the people of Kenya. He added that his intention was to show to the world the gross injustices that have been meted to the Kenya people.
He said that the world does not understand what is happening.
When international observers said that the election was free, fair and credible, Mr. Odinga expressed his disappointment. He said that he will prove how the process was interfered with in favor of his opponent, Uhuru Kenyatta.
He told the
Financial Times
that if elections in a democracy were to be held this way, then there was no need for voters to queue for many hours yet their vote would not count.
Raila Odinga casts his vote on Tuesday, 8 August 2017. /DANIEL IRUNGU/EPA
After the
death of IEBC IT Manager, Chris Msando,
the officials of the electoral body had no option but to play 'under metaphorical gunpoint', he added.
In an address to his supporters after a long silence, he urged them to be calm and not go to work to mark a mourning period for the deaths of their compatriots who had lost their lives to the post election violence that followed the declaration of Mr. Uhuru Kenyatta as the winner.
However, he said that he will make a major announcement on Tuesday, 15 August 2017.