Barcelona Terror Attack: As It Happened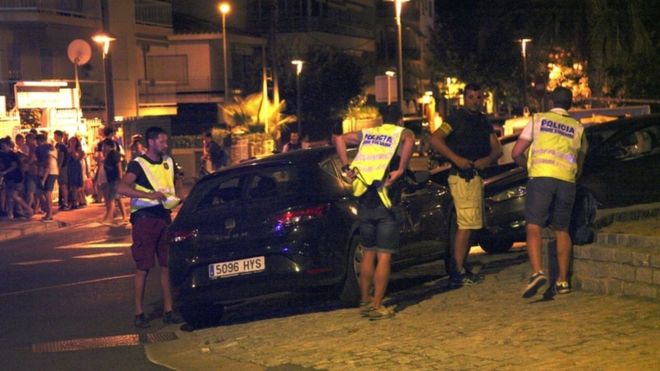 Spanish police inspect a vehicle used in the Cambrils attack. |EPA
What we know about those killed and injured

Barcelona
13 people are confirmed to have died after a van was driven into pedestrians in Las Ramblas.
Around 100 people were injured, at least 15 of them seriously.
Police shot dead four suspects in the coastal town, around 120kms from Barcelona. A fifth, who was injured and arrested, has since died.
Six bystanders were wounded, one critically and another seriously, in what authorities said was a possible terror attack. Reports suggested a vehicle was driven at pedestrians in an echo of the Barcelona attack, but this has not been confirmed.
A police officer was also lightly injured in the counter-terror operation.
Eyewitness accounts from Cambrils report "many gunshots" as police killed five people who had used a car to mow down pedestrians.
Markel Artabe, a 20-year-old restaurant worker, said he was on the promenade and saw someone lying on the ground "with a gunshot in the head".
Joan Marc Serra Salinas, a 21-year-old waiter, said he heard gunshots "and shouting. And more shouting. I jumped on to the beach and didn't move."
Alcanar
One person was killed and at least one other wounded in an explosion that destroyed a house in Alcanar, around 200km from Barcelona and 90km from Cambrils,
The cause was initially thought to be a gas leak but police now say they are linking it to the attacks in Barcelona and Cambrils.
The health department has said that one of the six bystanders injured in Cambrils is in a critical condition.
Spanish media including El País are reporting that a group of assailants in the town ran over several people in an echo of the day's earlier attack in Barcelona. This has not been confirmed by authorities. However, police have said that six civilians and one police officer were injured.
The Catalan regional government has now said that citizens from 24 countries were among the people killed and injured during the
Barcelona van attack
.
That's in addition to the four suspects shot dead and one arrested.
Isis has claimed responsibility for the attack in Las Ramblas, but this could not be verified.